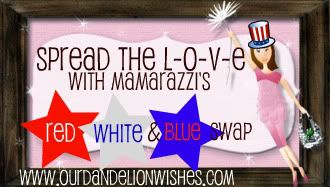 I got my
Red, White, & Blue swap package
in the mail today!! Perfect timing to get me feeling patriotic for the 4th of July tomorrow!!
It was wrapped on the outside too :)
Everything was wrapped so cute and each item had a little card with it!
My partner was
Brittany
! We found out that we have quite a lot in common. It was fun getting to you know Brittany!
Here is all the stuff I got! I really am a lucky girl! I got the best partner. She made most of it and then added a whole bunch of other stuff too! I hit the jackpot!!
The first thing I got was 2 car Sentsy air fresheners. Mmm, I can't wait to try them out!
She made this cute towel for my kitchen with a N for Neff!
And I got 3 packs of stickers; one each of red, white, and blue!
She made these cute star boxes and in each one was some handmade earrings! Love them!! Aren't those boxes so cute?
She made these 2 shirts for Emery. He already wants to wear them!
Thanks so much Brittany! It was a fabulous swap!!
Want to see what other people got in their swap boxes? You can find Mr. Linky on Mamarazzi's blog
HERE.